5 Steps to creating a conscious organisation
The world is on fire, inequality is rising and it's about time leaders stepped up and made the necessary changes.
The difficulty with making changes to be 'more sustainable' or 'conscious' as an organisation is that it's really difficult to define what those terms mean. In order to make sense of these words, we like to use scientific frameworks that tell us how we are performing in terms of looking after people and planet.
In the video above Kate Raworth discusses her version of economics called 'Doughnut Economics'. If you haven't taken the time to read it yet then add this book to the top of your list.
The book outlines clear limits on using resources to bring back the balance between what the planet can offer us and what we are taking. It also shows just how far our policies have to go to serve everyone and not just the wealthy.
What is a Conscious Organisation?
We believe that a 'Conscious Organisation' is simply one that considers the Triple Bottom Line (People, Planet and Profit) in all of their decision making and in that order. Always people and planet before profit.
Using a framework like the 'doughnut' allows us to analyse our organisations through a new lens. One that guides us on how to serve at the highest level.
If your organisation fits inside of the 'doughnut' then you are educating your industry about what is possible and setting new standards for what is possible.
Why choose to be conscious?
75% of employees say their job is more fulfilling if they are provided opportunities to make an impact and companies with engaged staff outperform their competitors by 143% on earnings per share.
The latest Consumer Report shows that there are big shifts towards ethical food and drift, including plant-based and Fairtrade. Green energy has had a similar increase in use. One of the biggest increases comes in the Electric Vehicle market, which has risen to £4.9bn in the UK.
Our campaigns can hit all the necessary KPIs to make the investment worthwhile as you increase the trust and reputation of your brand.
Data shows that triple bottom line related issues are ~80% likely to impact a consumers decision to buy or not.
Conscious Creatives believes that you don't have to sacrifice sales opportunities to create amazing work and give it a purpose. Our campaigns average over 3000% ROAS across multiple channels and over a 12 month period for sustainable and predictable growth.
​Our mission-focused approach has also proven to increase the likelihood of customers coming back by up to 200%.
So what's the process for getting there?
Step 1: Achieving your mission
Lots of companies have a mission statement of some kind on their website. Lots of people working for that company have no idea what it is because they have no idea how their job relates to the overall success of that mission.
We also see a lot of mission statements that have no target, no concrete evidence showing when it will be complete. It's open-ended and vague. It is not useful for inspiring business decisions that serve the mission.
Step 2: Planning for influence
To create the change you want to see in the world requires getting people inside and outside of your organisation to take action.
Creating influence should be the basis for any communications strategy to ensure that what you are saying as an organisation is creating action.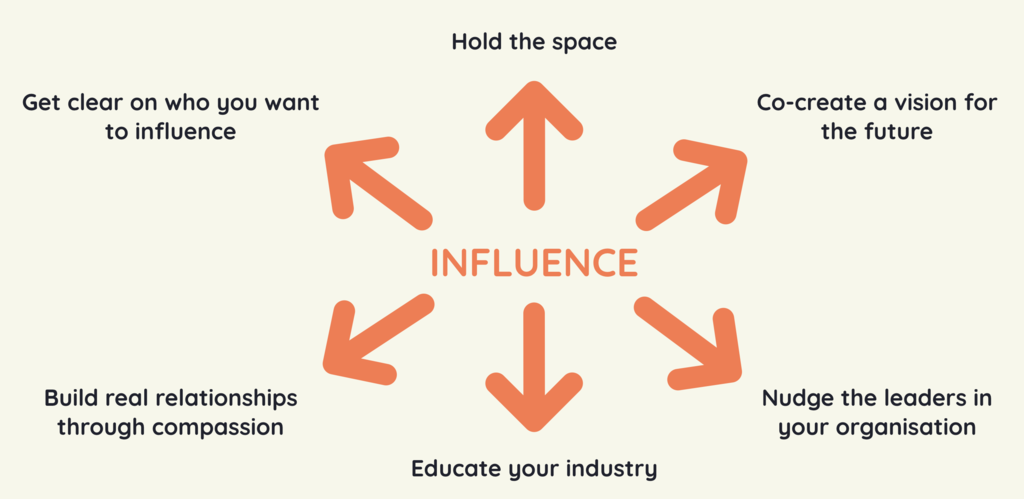 Step 3: Cutting edge policymaking
The challenges that we face as the human race require strong leadership. Unfortunately, it is not something that we really see a lot of. True leadership requires vulnerability and we live in a world where that is not always celebrated. We have to change that inside of our organisations.
Putting our people first and creating policies that serve everyone not just the executives is crucial for the 21st Century Economy. We will show you examples of policies and practices that encourage true leadership and create engaged employees that are aligned with your mission.
Step 4: Integrating the work
You've got a clarified mission that's driven with purpose. You've got a suite of new tools and policies to create the change inside the organisation and now it's time to roll that out.
We will help develop a clear internal communications plan that will ensure everyone understands their role in the changes, who they can talk to about learning more and what this means for their roles and responsibility.
Step 5: Creating the business case
We know that the rise of the ethical consumer is rewarding those brands that are investing their resources into building a better future for us all.
Conscious Creatives final step is to bridge the gap between the work you have done and your external stakeholders. We can support new sustainability reports, new CSR/PR campaigns and will write a whole new sales and marketing plan to guide your organisation to more success.
If you would like more information on creating your own Conscious Organisation then please click here and complete the form at the bottom of the page.